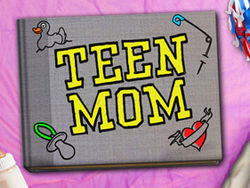 Teen Mom is an American reality television series that premiered on MTV on December 8, 2009. The series is a spin-off of 16 and Pregnant, and chronicles the lives of four of the original teenagers from that series as they navigate their first year of motherhood. In addition to teenage motherhood, the series focuses on themes of changing relationships, specifically, those of the family, friends, couples and school. It shows the struggles teenagers have to go through to raise their children. The series' pilot episode was the highest rated premiere on MTV in over a year with 2.1 million total viewers. This record has since been surpassed by MTV's version of Skins, which had 3.26 million viewers during its first episode. The season one finale brought in 3.6 million viewers. The second season of the show premiered on July 20, 2010. For its second season finale, it pulled in over 5.6 million viewers. A spin-off titled Teen Mom 2 was announced for January 11, 2011.
Ad blocker interference detected!
Wikia is a free-to-use site that makes money from advertising. We have a modified experience for viewers using ad blockers

Wikia is not accessible if you've made further modifications. Remove the custom ad blocker rule(s) and the page will load as expected.