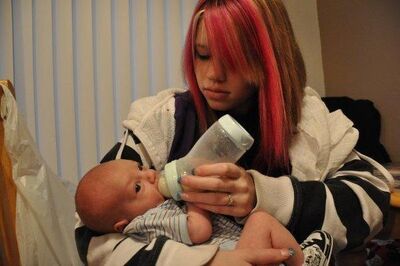 Megan McConnell is a high school junior from Ault, Colorado. Her father and sister are both members of the Army.
Megan's mom lets her 19-year-old boyfriend, Nathan Stone move in while her father is deployed overseas.
Megan expresses concern that all Nathan does is play video games because he has no job and is not going to school.
Nathan becomes so preoccupied with his friends and video games that he bails on his parents' Halloween party (which Megan attends) and Megan's baby shower.
At the 41-week mark, Megan tries different ways to induce labor. The following day, she gets major contractions and goes to the hospital. On January 19, 2010, she gives birth to Blake Ray Stone.
After they get home from the hospital, Nathan goes back to his old ways and favors his video games over his son. Megan's friends also seem to distance themselves now that she has a baby.
Megan and Nathan married in March of 2011, but divorced later that year. She is currently expecting another child due in April of 2015.
Ad blocker interference detected!
Wikia is a free-to-use site that makes money from advertising. We have a modified experience for viewers using ad blockers

Wikia is not accessible if you've made further modifications. Remove the custom ad blocker rule(s) and the page will load as expected.