Kristina Robinson

Location:

Waskom, Texas

Relationships:

John "Todd" Hight, Jr. (boyfriend; deceased)
TJ Head (husband)

Family:

Lukas Hight (son; with Todd)
Tommie Head (son; with TJ)
Layton (son; with TJ)

Status:

Living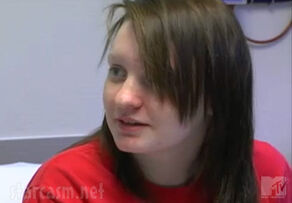 Kristina Robinson (now Kristina Robinson-Head) is an 18-year-old high school senior from Waskom, Texas who became pregnant by her late boyfriend, John "Todd" Hight Jr.
Sadly on April 30, 2011, Todd died in a drowning accident during a family outing early in Kristina's pregnancy; during that incident, Kristina (who was 3 months pregnant at the time of the incident) was injured, but was saved.
The episode focuses on Kristina managing her resultant grief from the tragedy, as well as having to work through the grief of the people around her who were also affected. She also has to deal with the complications of early labor.
On September 26, 2011, Kristina gave birth to her first son, Lukas Todd Hight two months early. After staying in the hospital for weeks, she is finally able bring Lukas home and adjusts to being a single teen mother.
In March of 2012, Kristina married TJ Head and had two sons together: Tommie Joseph (born on January 29, 2013) and Layton Jax (born on February 12, 2014).