Kayla Jackson

Location:

Mankato, Minnesota

Relationships:

Mike Schwig (ex-boyfriend)
Matt Neyers (boyfriend)

Family:

Preston Schwig (son; with Mike)
Cedric (son; with Matt)

Status:

Living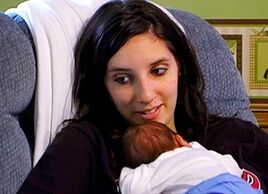 Kayla Jackson is a 17-year-old girl from Mankato, Minnesota who becomes pregnant by her then-fiance Mike Schwig.
Prior to her pregnancy, Kayla was a softball player and gymnast with a big circle of girlfriends.
Along with her pregnancy, she also struggled with anorexia; Kayla asked her mother for advice on how to lose weight while pregnant, but is told that it would be best if she didn't try to lose the weight.
Due to complications, Kayla undergoes a C-section where she gives birth to a son named Preston Michael Schwig on November 4, 2010.
After Preston's birth, Kayla's mother asks her to join her on a diet which causes a strain in their relationship. She lived with her father with Preston, but later moved out.
Kayla and Mike later got engaged, but have since ended the relationship. As 2017, she is dating Matt Neyers and they welcomed a son, Cedric, on July 27, 2016.