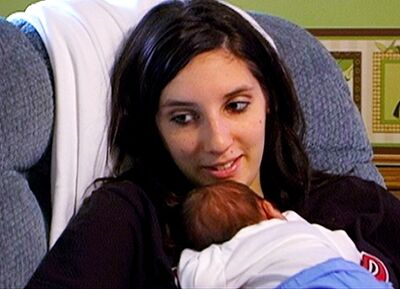 Kayla Jackson is a 17 year old from Mankato, Minnesota.
She was a softball player and gymnast with a big circle of girlfriends. She is pregnant by her boyfriend Mike Schwig, who lived about an hour away from her and is a year older than her. She also struggles with anorexia.
Kayla asks her mother for advice on how to lose weight while pregnant, but she says it'd be best if she didn't try to lose the weight.
Due to complications, Kayla undergoes a C-section where she gives birth to a son named Preston Michael Schwig on November 4, 2010.
After Preston's birth, Kayla's mother asks her to join her on a diet and that leads to a dent in their relationship.
Kayla now lives with her father. She later moved out of her father's house with Preston, Mike and a friend.
Mike and Kayla are currently engaged & Mike is planning to join the Army.
Ad blocker interference detected!
Wikia is a free-to-use site that makes money from advertising. We have a modified experience for viewers using ad blockers

Wikia is not accessible if you've made further modifications. Remove the custom ad blocker rule(s) and the page will load as expected.