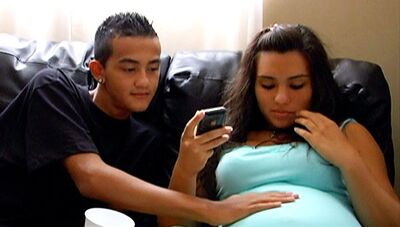 Izabella Tovar is a 15 year old from Draper, Utah who is pregnant by her boyfriend, Jairo Rodriguez. She hid her pregnancy from all her friends and most of her family for 8 months, and her relationship with her best friend Cassidy was rocky since Tovar didn't tell her that she was pregnant sooner and she didn't even show up to Tovar's baby shower. Tovar's family struggle with the fact that Tovar's boyfriend is not going to school to pursue a college degree, and it is revealed that Tovar's boyfriend did not actually graduate high school, and that he didn't get his GED online. Tovar gives birth to a son, Enrique Jairo, in September, 2010. Tovar and Jairo are now engaged. In 2014, Izabella gave birth to her and Jairo's second child, a daughter named Anastazia Emily.
On May 29th 2016, Jairo and Izabella married.
Ad blocker interference detected!
Wikia is a free-to-use site that makes money from advertising. We have a modified experience for viewers using ad blockers

Wikia is not accessible if you've made further modifications. Remove the custom ad blocker rule(s) and the page will load as expected.