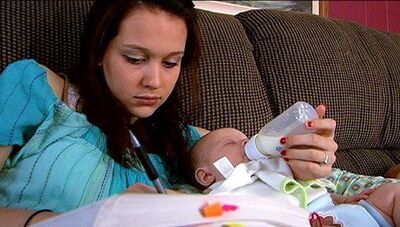 Emily McKenzie is a high school junior from Hayden, Alabama, recently moved in with her dad and step-mom, since her mother kicked her out of the house upon learning of her pregnancy. She met her boyfriend Daniel Peterson through marching band at their school. They plan to get married, and set a date for June 26, 2010 right after high school graduation so Emily and the baby can go to college with Daniel and stay in married housing. Emily is withdrawn from public high school after being told she will not be allowed to graduate due to missing too many school days, because of her pregnancy. She is then enrolled in homeschooling. Her dad, Stacey, fears Daniel won't be able to support his daughter in the long run. Emily gives birth to a boy, Liam Allen, in February, 2010. After Liam arrives, Emily's family finds out she isn't on track to graduate. Emily then tries to put their wedding plans on hold, and Daniel disagrees. The episode ends with Emily trying to graduate. They end up getting married on their planned date.
Ad blocker interference detected!
Wikia is a free-to-use site that makes money from advertising. We have a modified experience for viewers using ad blockers

Wikia is not accessible if you've made further modifications. Remove the custom ad blocker rule(s) and the page will load as expected.