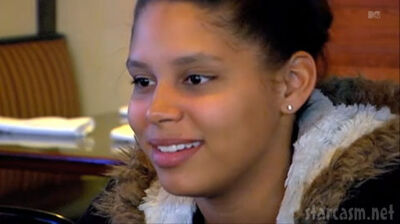 Cleondra Carter is a 17-year-old senior from Horn Lake, Mississippi. She is pregnant by her boyfriend Mario Escovedo.
The couple lives across the street from each other & Cleondra also takes care of her young niece Zyra practically full-time.
The episode focuses on Cleondra & Mario disagreeing about the baby's living arrangements.
On November 29, 2010, Cleondra gives birth to a baby girl named Kylee Sue Escovedo. Mario becomes obsessed with Cleondra and Kylee moving in with him and won't help with the baby unless they stay at his home.
The couple also disagree on who should be allowed to watch Kylee which leads to more fights.
Ad blocker interference detected!
Wikia is a free-to-use site that makes money from advertising. We have a modified experience for viewers using ad blockers

Wikia is not accessible if you've made further modifications. Remove the custom ad blocker rule(s) and the page will load as expected.