Allison "Allie" Mendoza is from New Jersey, but resides in
Pasadena, Texas
. She is pregnant by her boyfriend Joey Aranzeta. Mendoza and Aranzeta both live with Aranzeta's mother, Yolanda, and his younger brother Damian in Yolanda's house. Aranzeta's mother was a teenager and a drug addict when she had Joey, leading to her mental instability. After an incident where Aranzeta's mother almost attacks Mendoza over a banana, the couple realizes that Aranzeta's mother's home is very unstable for their child. Aranzeta's grandmother offers to take them in (as a last resort), which turns into another screaming match for Aranzeta's mother and Mendoza. Mendoza gets induced and gives birth to a son they name Aydenn Anthony Aranzeta on December 17, 2010. Aranzeta later fails to live up to the responsibilities of being a parent, so Mendoza eventually ends things with him and went to live with her friend Ashley, taking her child with her.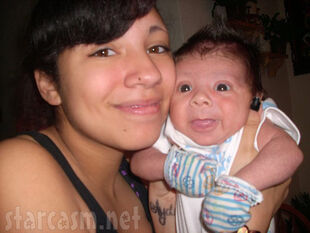 Ad blocker interference detected!
Wikia is a free-to-use site that makes money from advertising. We have a modified experience for viewers using ad blockers

Wikia is not accessible if you've made further modifications. Remove the custom ad blocker rule(s) and the page will load as expected.